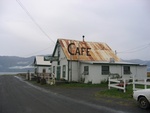 At Mile 56.7 on the Seward Highway 1, turn 18 miles off on Hope Road. Hope is an 89-mile day trip from Anchorage, a beautiful hour and a half drive along Turnagain Arm and through the Kenai Mountains, located where Resurrection Creek runs into Turnagain Arm.



Hope is a small town located at the end of the road on the southern shores of Turnagain Arm, with a rich history as a gold rush town. Even before Dawson or Nome, it was established as a mining community in 1896. There were six mines in the Hope region during the Gold Rush: the Hirshey Mine, the Bear Creek Mines, Hope Mining Company, Lucky Strike Mine, Nearhouse Mine and Paysteke Mine. This town was one of the most successful mining towns in Alaska and its history can be viewed at the Hope Historical & Mining Museum. During the early years Hope's population was in excess of several thousand people. Today, several hundred people live and work in Hope to provide the charm and romance of early Alaska history, welcoming you to another time and a slower pace of life.


Lodging, restaurants and other services are available in Hope including the Seaview Café, Camping, Cabins and RV Park, the Chugach Outdoor Center, which operates whitewater rafting trips and Resurrection Trail Resort where you can rent sluice boxes and take gold digging lessons. There are also many beautiful hiking trails in the Hope area.


© 2023 Travel Guide. All rights reserved. No part of this site may be reproduced without our written permission.