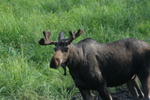 Location: Kenai Peninsula, along the shoreline of Upper Trail Lake at Mile 29 of the Seward Highway 9.


Moose Pass is located on the Seward Highway, a National Scenic Byway. The original Iditarod Trail, used for transporting gold and supplies, was blazed through this valley in 1910. The abundance of moose in the area prompted the town's name.

Moose Pass, a friendly and picturesque little town, will make your stay a comfortable one with lodging options ranging from campgrounds and RV parks to motel and B&B's. Several restaurants, gift shops and local grocery store provide dining and shopping opportunities. Peak Anteak, located in Moose Pass, offers the traveler a wide variety of antiques and gifts. The library, museum, churches and post office offer important services for out-of-town guests.

Of interest is a stone waterwheel for those that have an axe to grind! Travelers are welcome to stay awhile in Moose Pass, where residents claim the days are cooler, the roads quieter and the coffee hotter.

© 2023 Travel Guide. All rights reserved. No part of this site may be reproduced without our written permission.