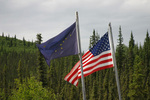 Location: Seven miles south of the Alaska Highway via a side road.



Northway is within the Tetlin National Wildlife Refuge. There are hundreds of small lakes and two glacial rivers, the Nabesna and the Chisana, which combine to form the Tanana River. Northway is located along the banks of the Nabesna River, across the river from the old village that was flooded in the 1940s.


Historically, Northway has been an Athabascan Native village. In addition to the village there is a Federal Aviation and airport service area. A campground is available with full hookups, phone, laundromat and showers, gas and groceries. Native craft items are available: beadwork, world-famous birch bark baskets, moccasins and mukluks.


Popular pursuits include berry picking and fishing in the summer, trapping and hunting moose and caribou.

© 2023 Travel Guide. All rights reserved. No part of this site may be reproduced without our written permission.