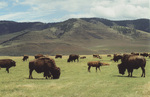 Location: Hwy 28 off Hwy 200, midway between Plains and Flathead Lake. Population: 600.


One of Montana's hidden treasures, Hot Springs sits at the base of the Cabinet Mountains between Kalispell and Missoula. Founded in 1910 and named for the local hot mineral springs that still flow today, the town had its beginning during the time of the big buffalo herds when the "Big Medicine" waters bubbled freely, flowing up from the pit of the hot water spring. The steamy pool created from the overflow churned with volcanic mud and the smell of sulfur was carried in the breezes, mixed with the spicy scent of wild sage. It was here that the Natives of the region constructed small huts in the hot water to relax in the frothy water and breathe the steam of "The Big Medicine."

Today thousands of people seek rest and relief in the fine mineral springs and mud baths. Hot Springs is a full service community with public pools, hotels and motels, providing the perfect spot to enjoy healthy relaxation in a peaceful environment. In Hot Springs, opportunities for privacy, relaxation and recreation abound. Many lakes, streams and rivers provide excellent fishing for the novice and expert angler. Easy walking or tough climbing trails can be found at the edges of town and wildlife frequently wander the streets. Numerous sight-seeing, boating, skiing and hunting areas are within easy driving range. Nearby attractions include a tour of the National Bison Range at Moiese, a visit to the historical St. Ignatius Mission Church, scenic Glacier National Park and Flathead Lake with its cherry orchards and recreational pursuits.

© 2023 Travel Guide. All rights reserved. No part of this site may be reproduced without our written permission.