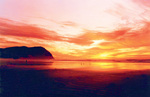 On Hwy 101 just north of the California border. Population: 5,220. Visitor Information: Brookings Chamber of Commerce; Phone: (541) 469-3181.


Tourists flock to Brookings to enjoy the year round beautiful weather; the area is known as the "Banana Belt" because light pressure systems moving inland bring warm, clear weather from California, instead of the cold, fog and wind that other coastal communities often experience.


© 2023 Travel Guide. All rights reserved. No part of this site may be reproduced without our written permission.