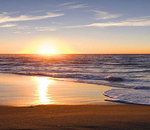 Location: On Highway 101. Visitor Information: City Hall, PO Box 2510, Gearhart, OR 97138; Phone (503) 738-5501.


Gearhart is a resort community just north of Seaside, offering access to beach activities along with its own lodgings, restaurants and shops. Horseback riding on the beach can be arranged at area stables and golfers can challenge the two local courses.


© 2023 Travel Guide. All rights reserved. No part of this site may be reproduced without our written permission.