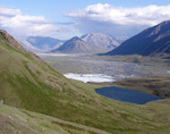 Location: In the northeast corner of Alaska bordering the Arctic Ocean and Canada; approaches the Dalton Hwy north of Antigun Pass, and lies about 65 miles west of Prudhoe Bay.


Managed by the US Fish and Wildlife Service, the ANWR was created in 1960 to protect almost 20 million acres of five different Arctic ecosystems, "for the purpose of preserving unique wildlife, wilderness and recreational values." Public use at the refuge includes hiking, camping, river floating, wildlife viewing, nature photography and filming, fishing and hunting. While native Alaskan subsistence practices are allowed, there are no roads, established trails, or facilities in the ANWR and people who wish to venture into the refuge are advised to become very knowledgeable about all aspects of the Arctic wilderness, or hire a reputable guide.

Visit www.fws.gov/refuge/arctic for lists of authorized wilderness guides and air taxi operators, accepted land uses and strategies to minimize visitor impact, maps and current weather conditions, as well as information on the few small communities that are the most common access points into the refuge. These include Kaktovik, Fort Yukon, Arctic Village, Coldfoot, Galbraith Lake, Happy Valley and Deadhorse. Ongoing climate change and oil impact studies are conducted by the US Fish and Wildlife Service within the vast reaches of the refuge.

© 2023 Travel Guide. All rights reserved. No part of this site may be reproduced without our written permission.