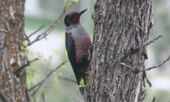 Location: Highway 93, 25 miles south of Missoula. Population: 1880. Visitor Information: www.mainstreetstevensville.com


Stevensville enjoys a rich past and the distinction of being Montana's oldest permanent settlement. In the heart of the Bitterroot Valley, the town boasts beautiful scenery, all-season recreational opportunities, unique lodging and restaurants, grand historic buildings and wonderful shops like the 1911 creamery building, home to the Creamery Antique Mall.


The area is the ancestral home of the Salish-Kootenai people, who were resettled on the Flathead Reservation. The Lewis and Clark Expedition passed through twice on their journey to and from the Pacific. Jesuit missionaries established St. Mary's Mission in 1841. The Fort Owen trading post was founded in 1850.


Listed in the National Register of Historic Places, St. Mary's Mission is a cultural and historical icon of the early days of the American West, affording a look back to "where Montana began."


Located in the mountains directly west of Stevensville and accessible through numerous trailheads, the Selway-Bitterroot Wilderness Area is the largest in the lower 48 states.

Just north of Stevensville, visitors can enjoy the Lee Metcalf National Wildlife Refuge, which provides habitat for a vast array of migratory and resident birds, mammals, reptiles, amphibians, gorgeous insects and plants.

© 2023 Travel Guide. All rights reserved. No part of this site may be reproduced without our written permission.