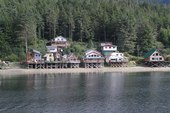 Location: On Chichagof Island, south of Hoonah. Population: 100. Serviced by the Alaska Marine Ferry.


Early prospectors and fishermen came to Tenakee to wait out the winters and enjoy the natural hot springs. The town features a bath house with a 105 degree sulfur hot mineral spring for public bathing, several large historic structures and the newly restored St Francis Chapel and a boat harbor. Visitors enjoy the laid back lifestyle, beauty of the inlet and the pervasive peace and quiet.

© 2023 Travel Guide. All rights reserved. No part of this site may be reproduced without our written permission.