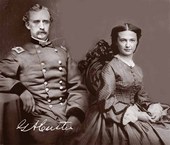 Location: At Exit 514 on Interstate 90 just south of the Little Bighorn Battlefield National Monument and Custer National Cemetery; 62 miles southeast of Billings and 62 miles north of Sheridan, Wyoming. Visitor Information: www.custermuseum.org



Garryowen is a privately owned town located at the southernmost edge of Sitting Bull's camp at the Battle of the Little Bighorn, where George Armstrong Custer and the 7th Calvary were overcome by the Sioux, Cheyenne and Arapaho during "Custer's Last Stand." The opening gunshots of the famous 1876 battle were fired only a few hundred yards from Garryowen, where visitors can view all of the famous locations, including the site where Custer was last seen alive and Reno's hilltop defense site.


The town consists mainly of a gas station and convenience store, post office, Bury the Hatchet BBQ and Deli, rest area, primarily Native arts and crafts trading post, the Elizabeth Custer Library and the Custer Battlefield Museum, with impressive exhibits and rare artifacts focusing on the battle and the Indian Wars era. The adjacent theater shows hourly documentaries giving logistical battle bearings to visitors. Just a few minutes southeast of Garryowen, visitors can enjoy a peaceful RV campground with cabins and tipis for rent, free wifi and private tours.


In 1895, Garryowen was established as a tiny railroad station on the Little Bighorn River and named after the 7th Cavalry's old Irish marching song. In the year of the Battle's 50th Anniversary, roadwork just east of Garryowen uncovered skeletal remains accompanied by bullets and buttons which clearly indicated the man had been a Cavalry soldier, one of the battle's first casualties and a member of Major Reno's command. The Custer Memorial Association decided a memorial service with full military honors was due this long-lost Unknown Soldier. The body was entombed in a special granite monument in Garryowen, followed by a "Burying of the Hatchet" ceremony attended by 50,000 people, during which a US government and Sioux representative smoked a peace pipe and placed a tomahawk in the base of the monument.

Elizabeth Custer and Museum of Frontier Women of the West

A 140-year search for understanding and significance in the story of George Armstrong Custer and his youthful demise has developed a new twist at the battlefield where he and more than 200 of his men over-reached and became an historical enigma for the ages. Over the first hundred years, thousands of written pages analyzing the military debacle focused largely on theorized details of the ill-fated attack on a huge renegade Indian gathering, on the golden boy's dashing image and decisions, on Major Marcus Reno's behavior and on follow-up vengeful Army expeditions that ended the free lifestyle of Indian bands.


In recent years, a more balanced and appropriate picture of Indians defending their families, homelands and way of life has emerged. It was firmed up by Uncle Sam's first major recognition of Indian victory, with funding for an Indian Memorial near the pinnacle atop the mass grave of fallen soldiers on Last Stand Hill. The 2003 dedication called for peace and unity in a blended American society and world. Now this much-visited site hosts a broader look at Custer, influences in his life and the fallout after his death through the eyes, heart and pack-rat tendencies of his adoring widow Elizabeth Bacon Custer, who saved virtually everything from their lives together.


Thousands of previously unknown letters, documents, artifacts, personal items and original manuscripts from her holdings have been acquired by Chris Kortlander, founding director of Custer Battlefield Museum at Garryowen, where the battle started with Reno's southern-flank move on the huge Indian village. He sees it as a different slant on the Custer legend, a "humanity aspect" emerging through his wife's collection. This magnificent national treasure needs a new archival museum home to enable proper preservation and research activities. To follow his dream, Kortlander is prepared to level the existing museum and commercial complex he's built over the past 20 years at Garryowen to provide a site for new construction.


With endorsement from the local Custer Battlefield Preservation Committee, he has beautifully rendered plans for a 56,000-square-foot Elizabeth Custer Library and Museum of Frontier Women of the West, a focal point for telling the stories of other pioneering women as well. "My vision is to preserve an important piece of American history for future generations by creating an accredited depository where historical artifacts and documents will be housed for public review and scholarly research. We hope to acquire additional collections and involve others who can enhance or contribute to the preservation of this segment of American history." But Kortlander's master plan is larger than his organization's ability to complete without financial help from individuals or philanthropic organizations. "We have the location. We have the collection. We have the know-how. The only thing we're lacking is the funding."


Pointing to the US National Park Service proposed construction of a new visitor center at Garryowen to replace the antiquated one atop Last Stand Hill, Kortlander asks, "So what can be better than private citizens building the largest private museum in Montana at the most famous historical battlefield in the world?" In addition to Libby Custer's vast collection, the current museum has other artifacts relating to Annie Oakley, Calamity Jane, Jeanette Rankin and Sacagewea. Elizabeth Custer complements this broadened concept because she was the first woman allowed to share her husband's military quarters on the frontier. Kortlander says pioneering women whose stories will be secured at the museum do not have to be famous. "Obviously, the men could not have made it without them. They are an important part of western history."

© 2023 Travel Guide. All rights reserved. No part of this site may be reproduced without our written permission.