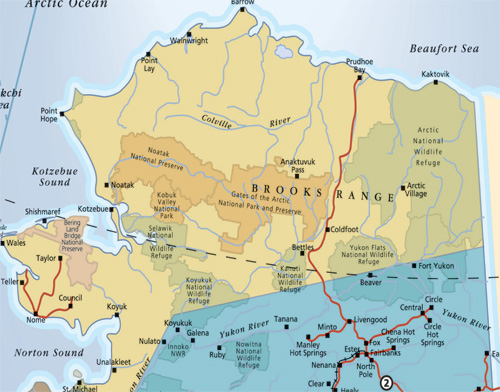 Taking the Dalton Highway across the Arctic Circle and farther north is an amazing journey never to be forgotten. The northern Alaska wilderness is home to many species of wildlife including arctic fox, grizzly bears and caribou.
As you head north, trees disappear and the summer days get longer and longer until there is just an hour of darkness a day in towns like Deadhorse. Prudhoe Bay is home to only 25 permanent residents, but the location of the famous oil fields, which support the entire state's economy.
Probably the most famous of the northern towns is Nome, endpoint of the Annual Iditarod Dogsled Race. The Iditarod Trail gained notoriety after dogsled teams fought harsh conditions to bring residents lifesaving serum in 1925.

© 2023 Travel Guide. All rights reserved. No part of this site may be reproduced without our written permission.