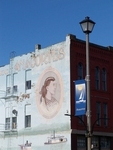 Location: On Fidalgo Island, easternmost of the San Juan Islands, accessible by bridge from the west and from Whidbey Island to the south on Star Route 20. Served by the Washington State Ferry, connecting the San Juans and Sidney/Victoria BC. 90 miles north of Seattle, 60 miles south of Vancouver, BC. Population: 16,000. Visitor Information: Anacortes Chamber of Commerce Visitor Information Center: 819 Commercial Avenue; Phone: (360) 293-3832; Website: www.anacortes.org


Anacortes is a relaxed and arty small city offering unlimited opportunities for recreation, graced by an incomparable setting on Puget Sound and a mild climate generating about 40% less rain than Seattle. The town occupies 12 miles of ocean shoreline and maintains over 3000 acres of park and forestland, dotted with 5 freshwater lakes. Enjoy sailing, power boating, whale watching, hiking, kayaking, mountain biking, golf, camping, sport fishing, bird watching, scuba diving, beach combing and much more.

Anacortes is homeport for numerous sailing and power yacht charters. There are four full-service marinas and three public boat launches. Washington Park features a full-service campground, boat launch, picnic shelter, playground, beach area and loop trail. Deception Pass Bridge and the state's busiest park are just minutes away, offering spectacular views and unique stretches of beach. Mount Erie Park, rising 1,300 feet above Anacortes, provides breathtaking views of the Skagit Valley and neighboring islands.

Browse through the historic downtown area highlighted by murals, specialty shops, antique stores and art galleries or explore the wide range of cultural restaurants. Quaint bed and breakfasts, inns, motels and waterfront RV parks offer an array of accommodation options. Special events include the Waterfront Festival in early June and the Anacortes Arts Festival in August.

© 2023 Travel Guide. All rights reserved. No part of this site may be reproduced without our written permission.