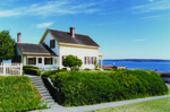 Location: 75 miles west of Olympia, on Highway 115 off Highway 109. Population: 2,550. Visitor Information: Ocean Shores Chamber of Commerce, P.O. Box 382, Ocean Shores, WA 98569. Phone: 1-800-76BEACH or (360) 289-2451; Email: chamber@oceanshores.org.


Ocean Shores is a 6,000-acre peninsula at the mouth of Gray's Harbor, the only deep-water port on the Pacific Coast north of San Francisco, with six miles of sandy beach and 23 miles of interconnecting lakes and canals. There are 700 overnight accommodations available, most on the ocean with fireplaces, swimming pools, spas and full kitchens. Recreational opportunities include world-class bird watching, year round fresh water, salt water and surf fishing, clamming (in season), whale watching, beachcombing and many other activities. There is an excellent 18-hole PGA rated championship golf course and exciting little shops throughout the town.

© 2023 Travel Guide. All rights reserved. No part of this site may be reproduced without our written permission.