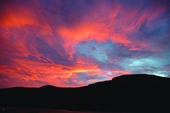 Junction Hwy 17 and 28, 25 miles north of Moses Lake and I-90, 120 miles west of Spokane, 180 miles east of Seattle, 50 miles from the Grand Coulee Dam. Population: 3759. Visitor Information: Soap Lake Chamber of Commerce, PO Box 433, Soap Lake, Washington 98851, Phone: (509) 246-1821, Email: slcoc@2fast.net


Soap Lake is situated where the southern end of the Grand Coulee meets the Columbia Basin in the midst of the unique terrain of eastern Washington, an intricate maze of scrub steppe, rolling dry land wheat farms and stupendous volcanic basalt cliffs carved 10,000 years ago when glacial Lake Missoula emptied and tore through the area with the full force of half of North America's flood water, forcing the formation of 400-800 foot high waterfalls. Fifteen miles from Soap Lake, at the south end of Banks Lake, Dry Falls is the site of what was the mightiest waterfall of all time, two and one half times higher and five times wider than Niagara, with ten times the flow of all the current rivers in the world combined.


© 2023 Travel Guide. All rights reserved. No part of this site may be reproduced without our written permission.