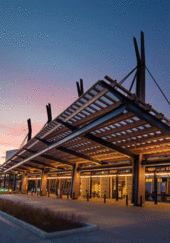 Location: On Highway 95, 25 miles south of Coeur d' Alene.





Since 1993, the Coeur d'Alene Tribe has operated the Coeur d'Alene Casino Resort Hotel, located where the sky greets Mt. Tch'mutpkwe, source of the St. Joe River, 25 miles from the city of Coeur d'Alene.


The Coeur d'Alene Tribe has a timeless story in the world of traditional hospitality. For thousands of years the tribe has been in this homeland, which originally stretched from Montana to the Spokane River Valley, and from near the Canadian border almost to the confluence of the Snake and Clearwater Rivers in northern Idaho. Tribal traditions include a respect and reverence for natural law and responsible environmental stewardship.


Named "2012 Best Casino of North Idaho" by North Idaho Business Journal and voted "Best Casino" in the CDA Living 2012 Reader's Survey, the complex provides 100,000 square feet of gaming space, 1,400 video gaming machines, high-stakes bingo, and off-track betting. The hotel has 300 rooms and 14 suites, an indoor swimming pool, and 24-hour business and fitness center.


An exceptional culinary experience awaits at the property's eight restaurants and lounges offering many regional signature staples, including venison stew with meat from Nicky Farms in central Oregon, Nisqually salmon and fresh huckleberries, among an abundance of other seasonal offerings. Chef Steven Walk and his staff are dedicated to preserving the culinary practices built on thousands of years of Coeur d'Alene tribal tradition of detailed preparation and gratitude for the plentiful sustenance that its homeland provides. Additionally, the NightHawk Lounge is a 360◦ bar with live music every weekend. Coeur d'Alene Casino Resort Hotel hosts exciting live entertainment throughout the year, including concerts, sporting events and other seasonal entertainment. CDACasino.com provides a complete calendar of entertainment and events.


Consistently voted as "America's 100 Greatest Public Courses" by Golf Digest and "Top 100 Courses You Can Play" by Golf Magazine, the Circling Raven Golf Club is renowned as one of the finest golf courses in the world, offering a 7,200-yard, 18-hole, par 72, Gene Bates-designed course. The Pro Shop is a haven for golfers featuring a vast selection of goods, gift items and equipment.


Spa Ssakwa'q'n is a full-service luxury spa and boutique, with a 15,000 square foot spa bathed in natural light, water and stone. The full-service menu includes massage, body treatments, facials, manicures, pedicures, spa specials and customized packages. The Boutique offers an array of luxury products from fine cosmetics to full-length robes and the signature Spa Ssakwa'q'n product line.


Other shopping opportunities include the Mountain Lodge Gift Shop, Upen Sich Cigar and Tobacco, where guests will find a fine selection of exquisite cigars and name brand tobacco products, and their E-Store, offering convenient online shopping for events, concerts, entertainment, and gift cards for any of the resort's venues, golf, hotel, gift shops, etc.


The Coeur d'Alene Casino Resort Hotel can also accommodate golf groups, weddings and business meetings utilizing 40,000 square feet of conference space customizable for groups of 12 to 1,200. Enjoy discounted group rates for booking ten or more hotel rooms. The Resort is located at 37914 South Nukwalqw in Worley, Idaho.

© 2023 Travel Guide. All rights reserved. No part of this site may be reproduced without our written permission.