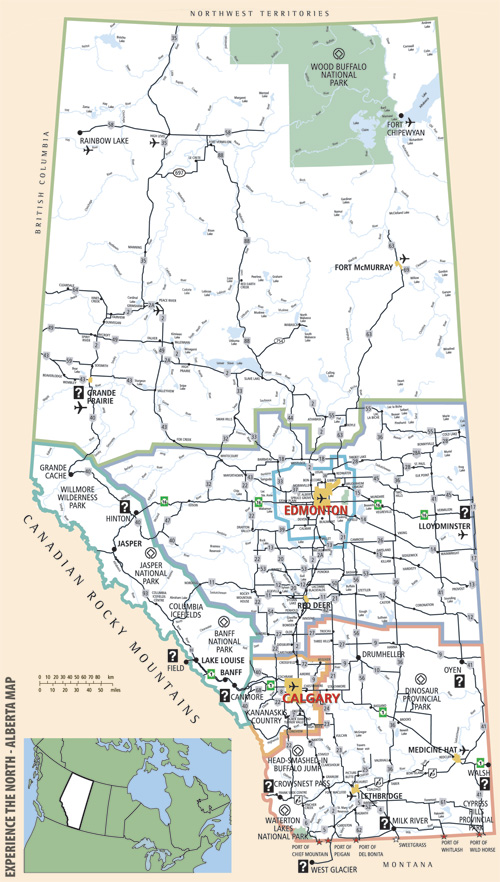 Open Larger Map

Alberta North is the starting point for many journeys, from the glittering cosmopolitan center of Edmonton, north to serene Lesser Slave Lake, west to Jasper National Park and the British Columbia border, northwest to the heart of the Mighty Peace River district at Grande Prairie and beyond to the Northwest Territories or northeastern British Columbia and Mile 0 of the Alaska Highway.
Alberta South
Southern Alberta is a wide open land of well maintained roads and byways that are a pleasure to drive and fun to explore, leading though a complex mix of geology and paleontology, arts and culture, past and present. The Alberta Badlands/Dinosaur Trail is one of Alberta's premiere traveling adventures.
With Calgary as your starting point, head north toward the Canadian Badlands Trail on Highway 2 to Crossfield and then veer east on Highway 72 (which becomes Highway 9). Be sure to stop at Horseshoe Canyon, Canada's mini- Grand Canyon — a picturesque pocket of badlands cutting through the prairie. The canyon extends from Highway 9 to the Kneehill Creek area for approximately 3 km. It covers 200 hectares and is more than 1.5 km wide at its widest spot. Its geological features illustrate more than 70 million years of natural history. Branching south from Highway 9, Secondary Road 840 leads to the tiny town of Rosebud, well known around Alberta for its lively dinner theatre performances and fine arts community spirit.
Continue along Highway 9 to Drumheller where the Dinosaur Trail begins. But before you venture out on this scenic loop through Alberta's lunar-like badlands, spend some time in the town of Drumheller where murals of dinosaurs decorate scores of historic buildings. At one end of Main Street, right on the banks of the Red Deer River, is the world's largest fibreglass Tyrannosaurus rex, where 106 stairs lead you straight into the beast's actual mouth.
Heading out on North Dinosaur Trail, just six kilometres west of Drumheller, is the Royal Tyrrell Museum of Paleontology, arguably the finest dinosaur museum in the world. The Tyrrell is devoted to dinosaurs and was named after Joseph Tyrrell, who in 1884 discovered an Albertosaurus, the first of hundreds of complete dinosaur skeletons, since removed from Alberta's badlands. Today the museum has more than 120,000 specimens and 35 dinosaur skeletons, likely more than any other museum in the world.
Continue west on North Dinosaur Trail (Hwy 838) along the Red Deer River. The road climbs steeply out of the valley onto the prairie benchland. Take the first access road on the left to double back to Horsethief Canyon Lookout for spectacular views of the Badlands and the multicoloured walls of the canyons. The trail's halfway point is the crossing of the Red Deer River on the Bleriot Ferry, one of the few remaining cable ferries in Alberta. The South Dinosaur Trail continues along the top of the valley to Orkney Hill Lookout for more panoramic views across the Badlands and the lush valley floor below.
Head east of Drumheller on Hoodoo Drive Trail (Hwy 10) named for the weirdly shaped rock formations that look like petrified mushrooms. Take a short side trip along Secondary Road 10X and cross 11 one-way bridges en-route to Wayne. Drive back to Hoodoo Drive Trail and head east to East Coulee. Once a thriving community of over 4,000 people this small town's history is displayed in the East Coulee "Big" School Museum. Two miles further east you will come to the Atlas Coal Mine National Historic Site. The most complete Mining Museum in Canada, this attraction features Canada's only remaining surface tipple.
Serious 'dinophiles' can add another day to their trip by heading south on Highway 56, then east on Highway 1 and slightly north on Highway 36 to Dinosaur Provincial Park (a UNESCO World Heritage Site). Its focus is the Field Station, a base for scientific research, but is also home to numerous dinosaur bone-beds, rivaled only by sites in China's Gobi Desert. Most people come here for guided walks and the popular badlands bus tours, which take in parts of the park otherwise out of bounds to visitors. Not only is the diversity of specimens great, but so is the sheer volume; more than 300 museum-quality specimens have been removed from bone-beds found here and are exhibited in museums around the world.

© 2017 Travel Guide. All rights reserved. No part of this site may be reproduced without our written permission.