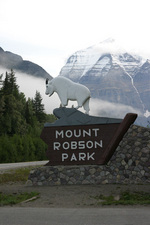 The Park shares its eastern boundary with Jasper National Park in Alberta, along the Continental Divide. Enter British Columbia on the Yellowhead Highway #16 over Yellowhead Pass into Mt. Robson.


The superb scenery in Mt. Robson Provincial Park makes an excellent destination for hikers, climbers and backcountry enthusiasts. At 12,972 feet, Mount Robson is the highest peak in the Canadian Rockies. The Park is the source of the headwaters of the mighty Fraser River and contains massive Berg Glacier, one of the few living (advancing) glaciers in the Rockies chain. The park provides three campgrounds and 120 miles of hiking trails, ranging from easy strolls to Overlander Falls to challenging backcountry excursions along the Mount Fitzwilliam Trail. Spectacular Berg Lake Trail begins in a cedar rainforest and meanders through the "Valley of a Thousand Falls" with wilderness campsites along the way.

Helicopter sightseeing offers a unique panoramic aerial tour of magnificent Mount Robson, adjacent Mount Terry Fox and glaciers with yawning crevasses of ancient ice. Rearguard Falls Provincial Park is on the Upper Fraser River and the falls are the final barrier to salmon migrating over 700 miles from the Pacific Ocean.

Guided fishing trips are available and fly-in fishing lodges are located on some of the 700 lakes in the area. Whitewater rafting opportunities span gentle trips on a large escorted raft to class 3+ rapids. Enjoy the stupendous scenery on horseback, by mountain bike or snowmobile or for something completely different, by dog sled!
© 2023 Travel Guide. All rights reserved. No part of this site may be reproduced without our written permission.