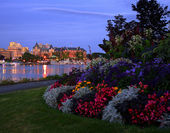 Situated at the southern tip of Vancouver Island, Victoria is easily accessed from mainland British Columbia and Washington State by ferry, cruise ship and numerous airlines. The Visitor Information Centre is located at 812 Wharf Street to assist with reservations for accommodations, sightseeing, adventure tours and transportation; Phone: (800) 663-3883; Email: info@tourismvictoria.com.


The Pacific Northwest's oldest city, Victoria bursts with Old World charm and a full palette of non-stop entertainment, hosting a nightlife that is among the world's most exciting. The capital city presents year-round outdoor adventure, from zip-lining through the temperate rainforest to moonlit kayaking. Victoria enjoys a spectacular setting amid beautiful beaches where the richly populated waters are home to three pods of resident orcas, as well as gray, humpback and minke whales.

From the Art Gallery of Greater Victoria located in an historic mansion, to the three branches of the Winchester Galleries specializing in original historical and contemporary Canadian, American and European artists, Victoria is graced with dozens of galleries, museums, castles, heritage sites and performing arts venues.

Victoria is woven through with nearly 50 regional, provincial and federal parks. The world-famous Butchart Gardens are 55 breathtaking, richly planted acres, which have been designated a National Historic Site, featuring evening entertainment, firework shows and boat tours. Open through the mild winter, the Gardens are especially captivating during the Christmas season. The perennially popular Victoria Butterfly Gardens allow visitors the experience of a tropical jungle within a 12,000 square foot enclosure featuring blooming plants, flamingos, reptiles, poison dart frogs, giant gold fish and thousands of stunning butterflies.

Accommodations in Victoria range from peaceful campgrounds to luxurious grandeur to affordably charming, while sampling the dining opportunities is an unforgettable event in itself.
© 2023 Travel Guide. All rights reserved. No part of this site may be reproduced without our written permission.