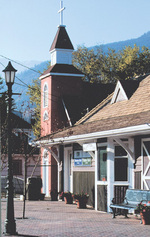 On the Trans-Canada Highway 1, about midway between Cache Creek and Hope; 265 km east of Vancouver. Population: 300; about 2000 in the area. Visitor Information: Lytton and District Chamber of Commerce and Visitor Centre: PO Box 460 Lytton, BC, V0K 1Z0; 400 Fraser Street; Phone: (250) 455-2523; Email: lyttoncofc@telus.net; Website: www.lytton.ca


Located at the convergence of the mighty Fraser River and its largest tributary, the Thompson River, Lytton is known as the Village of Superlatives, the Rafting Capital of Canada, Canada's Hot Spot and most recently, the Other Olympic Village. It is an important point for any cross-Canada trip, with both national railroads and the Trans-Canada Highway passing through town. Lytton started as a service supply center during the gold rush.

The native name is Kumsheen or "river meeting place" as aboriginal peoples have met, traded and celebrated in the area for upwards of the past 10,000 years. Be sure to spend some time at the Lytton Museum and Archives to learn more about this fascinating area and enjoy a picnic on the grounds.
© 2023 Travel Guide. All rights reserved. No part of this site may be reproduced without our written permission.