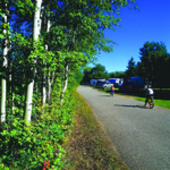 Location: Highway 93, north of Roosville Border Crossing on the U.S./Canadian border, 38 miles south of Fernie, 65 miles southeast of Cranbrook and 19 miles south of the Junction of Hwy 3 and 93 at Elko.


Highway 93 from the U.S./Canada border at Roosville to the junction with Hwy 3 at Elko traverses some of the most picturesque country in the East Kootenay, providing access to Edwards and Loon Lakes, Lake Koocanusa and also to the community of Baynes Lake. These popular lakes provide abundant fishing, boating and summer recreation sites. There are also many smaller lakes and streams in the area.

Grasmere is a small rural community situated in a valley noted for its wildlife, farms and pleasant scenery. In the winter, Hwy 93 provides a link between ski areas in the U.S. and Canadian ski hills in Fernie, Kimberly and areas further north and west.
© 2023 Travel Guide. All rights reserved. No part of this site may be reproduced without our written permission.