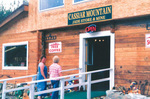 Location: On Stewart-Cassiar Hwy 37, 71 miles north of Dease Lake and approximately 12 miles south of Good Hope Lake. Population: 26.


The Stewart-Cassiar Highway is named for the asbestos mine and former company townsite of Cassiar, abandoned since 1992. After 40 prosperous years, when it proved too costly to develop new underground tunnels and transport asbestos to world markets, the thriving community of 1500 became a ghost town. Virtually all the buildings have been moved out and the site is now closed to visitors. The name Cassiar itself derives from Kaska, the First Nations people who inhabit this region.

Jade deposits are associated with asbestos and jade mines are scattered throughout this area. BC produces 90% of the world's nephrite jade. Named for the tremendous jade deposits and the Princess Jade Mine in the immediate vicinity, Cassiar Mountain Jade Store in Jade City carries an extensive selection of raw jade, jewelry and carvings. The owners' family has been mining, designing and manufacturing jade products for over 4 decades. RVs are welcome to camp.

Seven miles south of Jade City, Twin Lake and Simmons Lake are little jewels set deeply in mountain folds among towering spruce.
© 2023 Travel Guide. All rights reserved. No part of this site may be reproduced without our written permission.