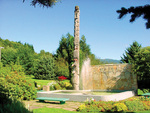 Location: Hwy 2; 6 miles southeast of Dawson Creek, 73 miles west of Grande Prairie, Alberta. Population: 900. Visitor Information: Village of Pouce Coupe, P.O. Box 190 Pouce Coupe BC V0C 2C0; Phone: (250) 786-5794; Visitor information Center located in the Museum; Phone: (250) 786-5555.


The first white man to settle in Pouce Coupe was a prospector named Trembley, on his way to the Yukon to dig for gold in 1898. He set up a trading post in 1909 and Police barracks were established in 1917. It was the "End of Steel" for the Northern Alberta Railway, which operated between 1931 and 1974. In one origin version, the name Pouce Coupe was taken from the pronunciation of Chief Posscapee of the Beaver tribe.

The Pouce Coupe area offers downhill and cross country skiing, snowmobiling, ice fishing and skating opportunities in winter, while many enjoy swimming, fishing, camping and hiking in the summer months. One of the first parks established in BC, Swan Lake Provincial Park is located 12 miles south of town on Hwy 2. It is open year round with 41 sites, fire pits, large playground, baseball diamond, lakeside trails and sandy beach. The shallow, warm waters yield Northern pike and walleye.

Pouce Coupe Regional Park is just south of town, situated near Bissette Creek with campground, playground, amphitheater, BBQ and horseshoe pits, shelter and confectionary. Sudeten Provincial Park is 10 miles south on Hwy 2 with 15 sites and day use area, while One Island Park lies north on Hwy 2 with 30 sites, fire pits and boat launch.

The Hart Hotel is one of the oldest hotels in BC, built in 1928 and still in use today with restaurant and pub. The "Pioneer Capital of the Peace River Area" also supports a regional museum where the visitor information centre is located. Special events include the March Winter Jamboree. Mud Dawgs and Trail Blazers Annual Mud Bog Event is held in May. Canada Day celebrations on July 1st include pancake breakfast, parade, talent show, BBQ, dance and fireworks.
© 2023 Travel Guide. All rights reserved. No part of this site may be reproduced without our written permission.