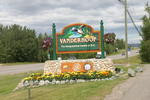 Yellowhead Highway 16; 20 miles east of Fort Fraser and Fraser Lake, 30 miles south of Fort St. James and 60 miles west of Prince George. Population: Approximately 4,800. Area Population: 20,000. Visitor Information: Vanderhoof and District Chamber of Commerce, 2325 Burrard Avenue, PO Box 126, Vanderhoof, BC V0J 3A0; Phone: (250) 567-2124; Website: www.vanderhoofchamber.com


Vanderhoof is located in the beautiful Nechako Valley at the geographical center of scenic British Columbia, an area known for its numerous recreational opportunities and a great place in which to live. Before Vanderhoof was established, the only inhabitants of the Nechako Valley were the Carrier First Nations. The Carrier hunted and fished and their cultural survival depended on a close relationship with the land. Today the Carrier people reside near the village of Vanderhoof in the community of Saik'uz (formally known as Stoney Creek) and their heritage is evident in their handicrafts and in the magical stories the elders tell. The Potlatch House in the small community welcomes visitors. You can sample traditional feasts of salmon, moose meat and Indian ice cream and enjoy performances by the Stoney Creek Dancers.

The community of Vanderhoof has a modern ice rink, curling club, ball diamonds, tennis courts, spray pool, bowling, two fitness gyms and a golf course in addition to its very modern service and shopping facilities. Vanderhoof was named after a Chicago writer. Herbert Vanderhoof arrived in the community in 1914 while working as a promoter for the Grand Trunk Pacific Development Company. After completion of the railway, Vanderhoof's town site was laid out on land owned by Herbert Vanderhoof. During the development of the town, Herbert supervised the construction of a large building complex intended to be a retreat for retired writers. Due to financial difficulties, the building was never completed and eventually was torn down.

Attracted to the vast tracts of cheap land for sale, prospective ranchers came here in droves, including famous author Rich Hobson. He has written three books (The Grass Beyond the Mountain, Nothing Too Good for a Cowboy and Rancher Takes a Wife), which include detailed accounts of his life and journeys. The Vanderhoof Museum has a room dedicated to Rich Hobson.

Vanderhoof quickly became the center of ranching, farming and logging. These industries helped to open up the surrounding wilderness for anglers, canoeists, cross-country skiers and wildlife photographers. In the wake came a number of lakeside resorts and wilderness retreats. Tours are available at the pellet mill, sawmills and dairy farms. Notify the information centre a few days ahead of time if you are interested in a tour.

Whether your interests are in fishing, hunting, hiking, camping or boating, this area offers a wealth of lakes, rivers, waterfalls, hiking trails, campgrounds, golf and mini golf courses, tennis courts and resorts. Attractions of interest in the immediate vicinity of Vanderhoof include the Vanderhoof Bird Sanctuary, with the Riverside Campground located beside the sanctuary on the Nechako River, Omineca Golf Course, the Vanderhoof Historical Museum, good retail shopping stores, movie theatre and the Vanderhoof Public Library, which provides Internet access.

The Vanderhoof Heritage Village Museum offers free guided tours and slide shows daily, as well as free self-guided tours. The refurbished OK Café serves excellent homemade soups, bread, perogies and desserts. Other points of interest well worth seeing include Kenny Dam, Cheslatta Falls, Greer Creek Falls, Sinkut Mountain, Omineca Hiking Trail and Telegraph Trail.

SPECIAL EVENTS: Trade Show every other May; Canada Day Celebrations July 1; Nechako Valley Exhibition 3rd Weekend in August; Stoney Creek Fishing Derby May Long Weekend; Pumpkin Walk October 31; Midnight Madness 1st Friday in December; Parade of Lights 1st Friday in December
© 2023 Travel Guide. All rights reserved. No part of this site may be reproduced without our written permission.