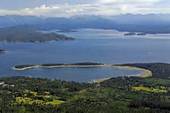 Location: East coast of central Vancouver Island at the south end of Discovery Passage. Population: 31,000. Visitor Information: www.campbellrivertourism.com


Long known as the Salmon Capital of the World, Campbell River is also recognized as an adventure and eco-tourism hub. Venture into Strathcona Provincial Park, where the mountains draw climbers, heli-skiers and other enthusiasts from around the world. Continue into remote reaches of north or west Vancouver Island, or head offshore to the Discovery Islands region for whale watching, kayaking and unparalleled wilderness opportunities.

Tours, day trips, workshops, cultural events and family activities focus on whales, salmon, marine animals, the bears and bald eagles that come to feast on salmon. Local restaurants excel at fresh-caught fish and shellfish. Visitors also enjoy a busy arts and cultural scene with community theatre, public art gallery, many local shops featuring First Nations' artwork, the Museum at Campbell River and the Maritime Heritage Centre. Other highlights include Canada's first saltwater fishing pier, award-winning seaside promenade, Quinsam salmon hatchery and the Discovery Passage Aquarium.
© 2023 Travel Guide. All rights reserved. No part of this site may be reproduced without our written permission.