Location: On Highway 56 near intersections of Highways 9 and 10, 140 km (85 miles) northeast of Calgary, 280 km (170 miles) southeast of Edmonton in Alberta's Badlands. Dinosaur Provincial Park lies to the southeast. Population: 8029. Visitor Information: Drumheller & District Chamber of Commerce, PO Box 999, 60-1st Avenue West, Drumheller, AB T0J 0Y0; Phone: (403) 823-8100; Email: tourisminfo@drumhellerchamber.com: Website: www.traveldrumheller.com


Entering the Badlands valley of the Red Deer River near Drumheller provides visitors with the unique opportunity to travel far back in time to the days of the dinosaurs. Characterized by coulees, hoodoos, canyons and grasslands, the eerie landscape invites exploration. Rich farmland is unexpectedly cut through by a twisting canyon of colorful layers of sandstone, mudstone, shale and coal dating back to the late Cretaceous Period. The Drumheller Badlands are one of the few areas in the world where overlying sedimentary layers have been eroded to expose a high density array of entire skeletal remains. If your family has been swept up in the latest Jurassic era dinosaur film, bring them here to explore the true size and nature of these creatures who inhabited Earth for 165 million years.


Drumheller is best known as the home of the internationally recognized Royal Tyrrell Museum of Palaeontology, which houses one of the world's largest displays of complete dinosaur skeletons. Visitors to the museum can see hundreds of fossils and participate in innovative interactive displays and exhibits, utilizing modelling technology, fibre optics and computer wizardry, while scientists from around the globe use its unequalled research facility. In addition to the dynamic displays, in the summer visitors can also participate in educational programs that interpret how the past and present are interrelated and can learn about the wonders of the badlands during a guided hike, create a cast of a real fossil or try their hand at digging in a quarry. Located 6 km (3.5 miles) northwest of Drumheller in Midland Provincial Park, the museum provides a rare opportunity to discover the fascinating history of life on planet Earth. Please visit their website at www.tyrrellmuseum.com to discover your dinosaur adventure.


The badlands are a dinosaur graveyard, the rock layers preserving fossil bones of Albertasaurs, duckbills, horned dinosaurs and the remains of ancient forests. The swamps in which dinosaurs prowled were changed with time into deposits of coal. In 1911 an American named Sam Drumheller registered the first coal mine in the valley. In short order 138 more mines were registered; railway tracks were laid and immigrants from Hungary, Ukraine, Italy, Britain and America arrived by the trainload. The Atlas Coal Mine is a registered provincial historic resource preserving this important heritage with the stories of the mines and the miners who carved Drumheller out of the badlands.


Just across the river from the Atlas Mine, the East Coulee School Museum is located just minutes southeast of Drumheller on Hwy 10 in the once booming coal mining town of East Coulee. Contact the museum at 403-822-3970 or www.ecsmuseum.ca for information on their unique tours, special events and fabulous music festivals. Having recently beamed in from the town of Vulcan, Alberta, the Trekcetera Museum is a movie and TV history museum which should not be missed while in Drumheller.


Outdoor activities include golfing, hiking, skiing and riding the historic 1913 Bleriot Ferry across the rolling Red Deer River.


THE ROYAL TYRRELL MUSEUM

The Royal Tyrrell Museum is one of the world's premiere palaeontological research facilities and Canada's only museum dedicated exclusively to the collection, protection, presentation and interpretation of palaeontological history, with special reference to Alberta's rich fossil record. Offering a variety of programs designed to inspire the young and young at heart with creative, fun and educational activities that bring the Museum to life, from award-winning outreach programs to innovative summer public programs, the Museum makes palaeontology accessible for everyone.


In August of 1884, Geological Survey of Canada geologist Joseph Burr Tyrrell (TEER-uhl) discovered a 70-million-year-old carnivorous dinosaur skull near present day Drumheller. Officially named Albertosaurus sarcophagus ("flesh eating lizard from Alberta") in 1905, Tyrrell's discovery was so significant that the Museum opened its doors to the public one hundred years later as the Tyrrell Museum of Palaeontology.


Originally intended to serve as a research and scientific facility, plans soon included a large public gallery and display area that attracted over 500,000 visitors in its first year. Since receiving the Queen's "royal" appellation in 1990, the Royal Tyrrell Museum has become world-renowned for its innovative public education programs, engaging exhibits and ongoing devotion to the science of palaeontology. Situated in the rugged Alberta Badlands of Midland Provincial Park, the 835,000 square foot Museum is home to approximately 140,000 individual specimens, over 300 of which are holotypes, a term used to describe an individual plant or animal that serves as the basis for the description of an entire species.


The Royal Tyrrell Museum houses a range of galleries and exhibit spaces that immerse visitors in the 3.9-billion-year-history of life on Earth. Current galleries include:


• Foundations (Opening May 2016): Introduces the visitor to the field of palaeontology and bridges the key themes and ideas that are central tenets to the history of life on Earth and the significance of the Alberta badlands.


• Fossils in Focus: Only a fraction of the Museum's tens of thousands of fossils are ever on display. This rotating exhibit highlights some of the most remarkable and scientifically significant specimens. Current specimens include:
• Regaliceratops (aka "Hellboy") is a newly described genus and species of horned dinosaur that lived in Alberta during the Late Cretaceous 68.5 to 67.5 million years ago
• The best-preserved specimen of Protictis (a small primitive mammal) found in Alberta
• A unique hadrosaur trapped in a 1300 kg block discovered where no dinosaur has been found before


• Lords of the Land: Showcases some of the Museum's most rare, fragile, and significant carnivores as works of art. Highlights include:
• The partial skull of Atrociraptor, the first of its kind to be found anywhere
• A complete Ornithomimus skeleton preserved in the classic death pose position
• An enormous 13.7-metre long Tyrannosaurus rex


• Dinosaur Hall: Features one of the world's largest displays of dinosaurs, most of which were discovered in Alberta. Highlights include:
• Triceratops with its large bony frill and three horns, is one of the most recognizable of all dinosaurs
• Euoplocephalus, meaning "well-armoured head", was one of the largest ankylosaurs—about the size of a small elephant.
• Not everything in Dinosaur Hall is a dinosaur—check out the Bearpaw Sea exhibit with mosasaurs and elasmosaurs; some of the largest marine reptiles that ever lived.


• Cretaceous Garden: The ancient Alberta landscape was much different from what you see today. Dinosaurs and other animals lived in a lush, coastal environment dotted with swamps, ponds and marshes. Wander through this recreated indoor landscape, filled with plants found in the fossil record.


The province of Alberta is rich with fossils and every year hundreds of specimens from microscopic pollen to 10 tonne dinosaur skeletons are brought into the Museum's collections. Fossil finds are reported from people working in gravel pits, mines, home construction or simply on a hike - so if you're out in the badlands of Alberta, keep your eyes open because you never know who will make the next big find!

Recent Discoveries:
Spirit River hadrosaur discovery: A hadrosaur dinosaur fossil was found by a pipeline inspection crew near Spirit River, Alberta.


Royal Tyrrell Museum finds new species of fossil fish: The Museum now has 17 complete fossils of a previously unknown species of ancient fish, believed to be related to the modern alligator gar.


First feathered dinosaurs from North America: Researchers from the Royal Tyrrell Museum and University of Calgary have discovered fossil evidence of the first feathered dinosaurs from North America in the 75-million-year-old rocks of the Alberta badlands.


Huge Triceratops fossil found near Royal Tyrrell Museum: A dinosaur dig team unearthed the skeleton of a massive Triceratops just east of Drumheller.


Korite mosasaur discovery: A 75-million-year-old marine reptile fossil was recently discovered in southern Alberta.


Suncor ankylosaur: Dr. Donald Henderson believes the completely intact dinosaur skeleton is the earliest dinosaur ever found in Alberta — a 110-million-year-old fossil of an ankylosaur, a rare dinosaur with bony plates of body armor.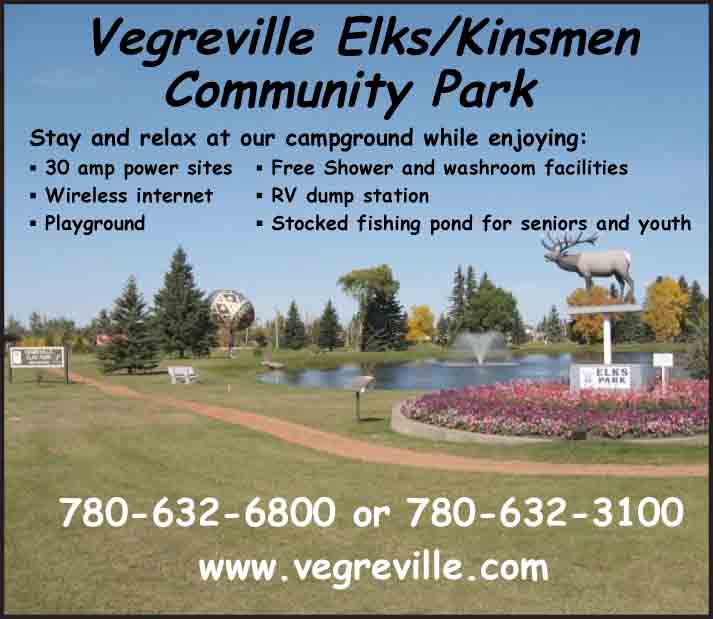 Drumheller
Business Directory
Travel Services
Alberta SW

© 2023 Travel Guide. All rights reserved. No part of this site may be reproduced without our written permission.