Location: On Highway 2; 24 km (14 miles) east of Mackenzie Hwy 35; 486 km (295 miles) northwest of Edmonton and 195 km (115 miles) northeast of Grande Prairie. Population: 6740. Visitor Information: Peace River and District Chamber of Commerce, PO Box 6599, Peace River, Alberta, T8S 1S4; Phone: (780) 624-4166; Fax: (780) 624-4663; Email: admin@peaceriverchamber.com; Website: www.peaceriverchamber.com


Nestled within the majestic valley of the Peace River, the Town of Peace River enjoys one of the most beautiful physical settings in the province, Situated near the confluence of the Peace, Smoky and Heart rivers, the town is the second largest center in northwestern Alberta and functions as a thriving regional and service trade center. The Town of Peace River and its surrounding forests, streams, rivers and moderately mountainous terrain is the perfect setting for those looking for a place to relax and enjoy life while on vacation or weekend excursion. From surrounding outlooks and observation areas such as Sagitawa Lookout and Kaufman Hill, visitors will be treated to an outstanding scenic display of the river valleys below.

Along with great shopping, restaurants, dance clubs and lounges, visitors to Peace River can always find accommodation to suit their needs with more than 400 rooms available at local hotels and motels. Campers will also find an abundant selection of outdoor facilities, many just minutes away from bowling alleys, riding stables, picnic areas, interpretative trails, 9 and 18-hole golf courses, secluded fishing spots and much more. Hiking, cycling and just plain walking are the order of the day in Peace River country, where the breathtaking beauty of the valley hills offers the ideal setting for photographers and wildlife enthusiasts to capture the moment forever.

Winter visitors can ski the slopes of Misery Mountain, located on the West side of the town, go cross-country skiing along one of the many trails in the valley or toboggan down several area hills. Peace River is steeped in history.

One of its most famous citizens was Henry Fuller Davis, more commonly referred to as 'Twelve Foot' Davis. A native of Vermont, Davis was born in 1820 and was known for his generosity, hospitality and good fortune. He achieved great social prestige when he mined over $15,000 worth of gold from a twelve-foot plot of land between two gold plots near Barkerville in the Caribou country of British Columbia. When he moved north because of the lure of gold in the Yukon, he established trading posts at Dunvegan, Peace River and Fort Vermilion. He was known to always leave the doors of his posts unlocked and a supply of fresh dry firewood for trappers to spend a night out of the dark and cold.

Another tie to the community's past is located at the Peace River Centennial Museum. By 1916, the river was the commercial highway of the north. Steamers and york boats were a commonplace sight. One of the most famous steam wheelers to be built was the SS DA Thomas named after Viscount Rhondda, a munitions and mining magnate. It measured 162 feet by 37 feet wide and was originally built to transport oil and coal deposits out of the Peace country. It was active as a passenger and freight steamer but was decommissioned in 1930 because it continually ran aground on sand bars. The wheel shaft of the DA Thomas can be viewed at the Centennial Museum.

A Beaver Indian legend says, "Drink the waters of the Peace River and you will return." The warm, hospitable residents of beautiful Peace River believe you will find this to be true of their year round safe and relaxing destination.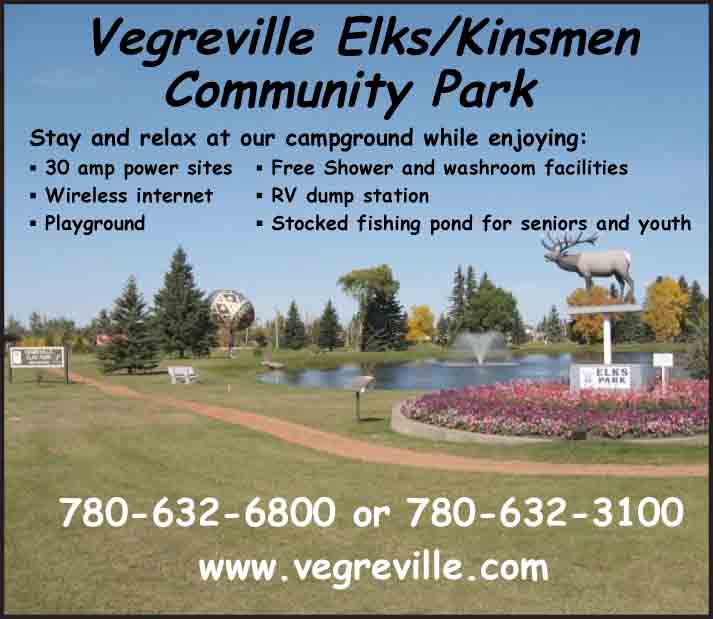 Peace River
Business Directory
Travel Services
Alberta SW

© 2023 Travel Guide. All rights reserved. No part of this site may be reproduced without our written permission.