Location: On Highway 22, in the scenic foothills east of the Rocky Mountains along the Red Deer River, 80 miles (130 km) northwest of Calgary. Population: 2518. Visitor Information: The Visitor Information Centre is home base for the Sundre and District Chamber of Commerce, PO Box 1085, Sundre, Alberta, T0M 1X0; 
Phone: 403-638-3245; 
E-Mail: info@sundrechamber.com; Town of Sundre: PO Box 420, Sundre, Alberta, T0M 1X0; 
Phone: 403-638-3551; Website: www.sundre.com


Stretching across more than 400 miles (700 km) of breathtaking ranchland, rolling prairies and the eastern slopes of the Rockies, the Cowboy Trail (Highway 22) accesses Old West country from Mayerthorpe in the north to Cardston in the south, with Sundre right in the heart of the journey. Along the Trail, visitors can take a wagon ride or saunter up mountain trails on horseback. Enjoy a helicopter tour, followed by a guided hike and fishing trip with one of many regional guides. Relax afterward in an authentic saloon and finish off the night with a hearty sleep at a cozy B&B.


Sundre's original settlement occurred from 1890 to the beginning of World War I. In the 1930s, the drought of the Great Depression ravaged the land, forcing settlers to leave their farms in search of work. Rural electrification in 1951 and a booming oil and gas industry sent the town on an upward swing.


There are several fine golf courses close by and the area is a fisherman's dream come true. Plan a canoe trip on the Red Deer River, enjoy horseback riding, rafting and hiking. Snake Hill is a large recreation area right in town providing trails and winter sport activities. Sundre also has active theater and fine arts groups.

West of Sundre, beautiful wild horse herds are alive and well, and can be spotted or even carefully approached in clear cuts, along back roads and pipline right of ways, particularly in winter when tracks are apparent and the horses are more bunched together.


Step back in history with a visit to the Sundre Museum and Pioneer Village. The large grounds feature a Norwegian log cabin, the area's oldest schoolhouse, blacksmith shop, trapper cabin and barn. Displays donated by long-time residents highlight the history of the area, and a fully equipped pioneer home portrays life in the good ol' days.


The Museum's world wildlife display centre was more than two years in construction and a decade in planning. The Chester Mjolsness World of Wildlife Museum houses 170 animal mounts, including giraffe, elephant, hippo, rhino and polar bear, taken during his hunting expeditions of the past decades. A great resource for educating people about wildlife conservation, the animals are set against impressive mural backgrounds that were more than 1000 hours in the making, creating three-dimensional panoramas of jungle and mountains, forest and plains, savannah and ice caps.

Looming over the landscape at more than a mile above sea level, the Blue Hill Lookout Tower south of Sundre is one of the few remaining original fire lookout towers, built in the 1920s. While vehicle access is not permitted directly to the site, it can be reached by taking Highway 584 west to the Coal Camp Road. At the Red Deer River Ranger Station, walk out and follow the signs.


The Sundre Pro Rodeo and Parade is held annually during the third week in June. Sundre also hosts exciting summer and winter festivals.


The Bergen Rocks International Sculpture Festival is held every August as international artists work with huge blocks of marble. Located 5 minutes southwest of Sundre, the Sculpture Park is open all year, where visitors can see the monumental stone sculptures by artists from India, Viet Nam, Cuba, Germany, Thailand, Ireland, Armenia, Canada, Iran, Korea, Turkey, Italy, China and Mongolia.


Sundre has many comfortable hotels, motels and B&Bs, as well as several fully serviced RV campgrounds. Big Horn Campground at the Ya Ha Tinda Ranch is open year round, located right next to Big Horn Falls.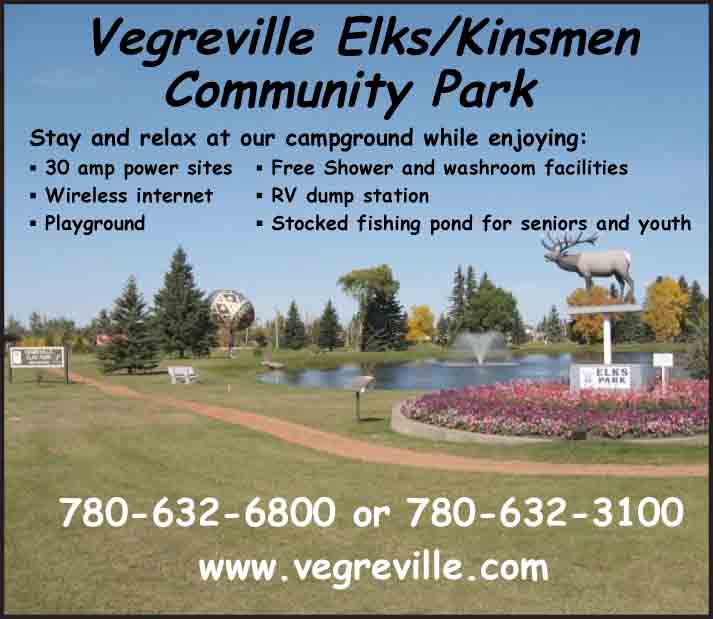 Sundre
Business Directory
Travel Services
Alberta SW

© 2023 Travel Guide. All rights reserved. No part of this site may be reproduced without our written permission.